About
After completing a Diploma in Art and Design in Theatre at Wimbledon School of Art in 1969, Sampson Lloyd went to Leicester Polytechnic where he enrolled on a one year post graduate Art Teachers' Diploma course. He graduated with a Distinction in 1972. He taught at Cheam High School in Surrey for six years where he became Head of Art. In 1978 he turned to photography. As a commercial photographer he worked for many companies including IBM, General Electric and Rockware Group. In 1989 he was given the opportunity to take the photographs for two upcoming landscape publications, "Ancestral Castles of Scotland" and "Lochs and Glens of Scotland". Since then, in addition to commercial opportunities, he has taken photographs for many illustrated books, mostly landscapes. The images on this site are from a range of subjects and include family archive material in addition to his published photographs.
Sampson Lloyd was born in a small hamlet in Northamptonshire called Pipewell in November 1946. The archive material on this site is based on the families of his parents and their colourful histories.
Pipewell Hall
It is said that Pipewell Hall was built from the stones of the Cistercian Pipewell Abbey which was destroyed during the reign of Henry VIII. The original house was built in 1675 and extensively reconstructed in the 19th century which included the building of a Victorian west wing which was demolished in 1949.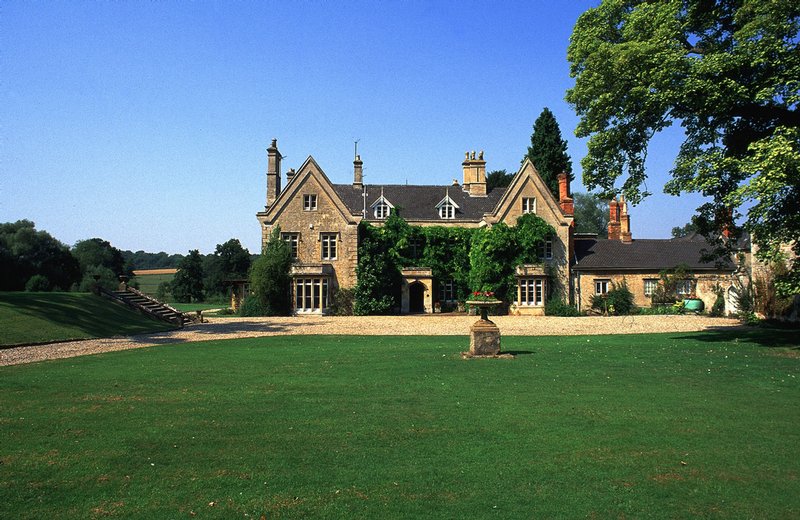 Samuel Janson Lloyd, Sampson's grandfather, moved from nearby Brigstock to Pipewell in 1921. The family steel business of Stewarts and Lloyds was flourishing in Corby and Sam already had twelve children. Timothy the thirteenth child was born at Pipewell in 1922. Sadly he was killed in Italy in 1944. A book containing the letters he wrote to his mother was published in 1995 and the original letters are availble to see here Uncle Tim's Letters 1943-1944 Sam was in fact the seventh of 12 children and it is coincidental that his seventh child David eventually inherited the house. A collection of archive Lloyd family photographs can be found here The Lloyd Family
David Lloyd and Evadne Longsdon (née Flower) were married in 1945 and moved into Pipewell just after the war. This brought together an intriguing mix of steel, brewing, theatre and flying. Evadne known to all as Bobby, was the daughter of Sir Archibald Flower chairman of both Flowers Brewery and the Shakespeare Memorial Theatre. Edward Fordham Flower, Sir Archie's grandfather, emigrated with his family to America in 1812. As a liberal thinker and a passionate advocate for the abolition of slavery, Edward Fordham had to leave America on account of his unpopular and outspoken views. He returned to England in 1831 and found his way to Stratford upon Avon where he started a brewery called Flowers Beers. Together Edward Fordham and his son Charles Flower organised the Tercentenary Celebration of William Shakespeare's birth in 1864. From this beginning the Shakespeare Memorial Theatre was born, still flourishing today as the Royal Shakespeare Company. A brief history of the family can be found here The Flower Family
Bobby was a director of Flowers Breweries for many years and put her considerable artistic skills to designing the interiors of Flowers Pubs. She was a Governor of the Royal Shakespeare Company for 74 years and an avid flyer as a very young woman in the 1920s. A passion shared with her husband David.
David worked in the steel industry for a while but his real love was a combination of aeroplanes and rifle making. In 1929 he was sent to Glasgow to learn about steel but spent most of his time high up in the sky either above the Isle of Arran or bouncing along the beach at Renfrew with the seagulls in a Fairy Swordfish. For many years on summer and autumn afternoons he would be seen flying his pillar box red Tiger Moth over Pipewell. On occasions bombing the local residents with oranges. David's collection of photographs of aeroplanes can be found here DLL's Flying Diaries, Log Books and Collection of Aeroplane Photographs
He developed the acclaimed David Lloyd .244 Magnum Stalking Rifle which was recently voted by the Shooting Times as the 9th greatest rifle of all time. The infamous Kalashnikov AK47 coming eighth. He continued to make rifles up until his death in August 1996. Bobby continued to run the rifle business until her death in July 2003.
Quick Links to Photographic Content
Images of Scotland Images of london Wimbledon Common Images of St Paul's Cathedral 2000 taken between 1999 and 2002 Photographic Exhibitions in 2013 qnd 2014 Artwork Burghley House Immortals of British Sport Memories of Glen Cassley Military Tournaments The River Cassley from the Falls to the Run
Quick Links to Lloyd Family Archive Material
The Lloyd Family The war letters from Timothy Lloyd 1943-1944 written to his mother "A Clear Premonition", the letters of Timothy Lloyd killed at Arezzo in Italy in 1944 edited by Raleigh Trevelyan and published in 1995 "Darling Mummie " Proposal for at TV documentary based on the war letters of Timothy Lloyd 1943-1944 David Lloyd's collection of Early Aircraft Tim Lloyd's Marionette Notebook David Lloyd's Flying Diaries and Log Books David Lloyd Wartime Black & White Negatives
Quick Links to Flower Family Archive Material
A brief history of the Flower Family The Flowers of Stratford Sir Archibald Flower Sketch Book 1885 Sir Archibald Flower Sketch Book 1925 "Bits and Bearing Reins" by Edward Fordham Flower Aunt Sarah's Diary "Flowers of Stratford" Film Proposal Evadne Flower's photographs from a trip to Russia in 1939 Edgar Flower's Sketch Book 1870 Great Aunt Sarah's Photograph Album Early Shakespeare Memorial Theatre Autographs